Warm string sounds, sparkling virtuosity and innovative interpretations – that unites violinist Anna Göbel and cellist Anna Catharina Nimczik. As Duo con moto they showcase the versitility of their instruments.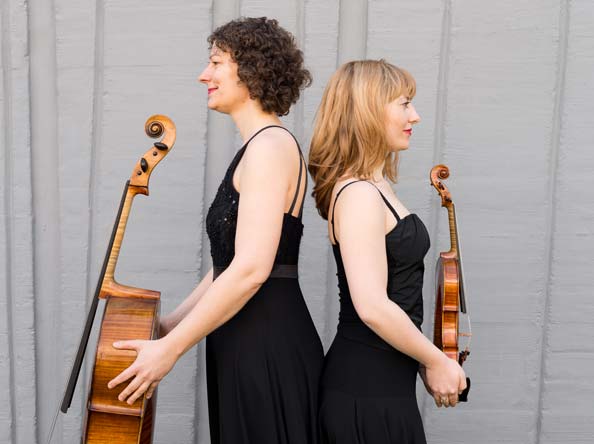 Since starting their collaboration in 2017 in Mainz the musicians have been expanding their work far beyond the Rhein-Main region. In the upcoming season the Ensemble will appear among others at the town hall concerts in Bad Karlshafen, at Kammermusiktage Kühlungsborn, at KunstForumEifel and at Kunstwerk Turbinenhaus Naumburg.
In their concerts the instrumentalists broaden their musical conversation into a dialogue with the audience. Here they mix baroque and classical treasures from Bach to Beethoven with extraordinary pieces from the 19th and 20th century and also feature contemporary music. In the course of this they have developed a special collaboration with the composer Violeta Dinescu, whose piece "Lytaniae II" they will premier in the season 22/23.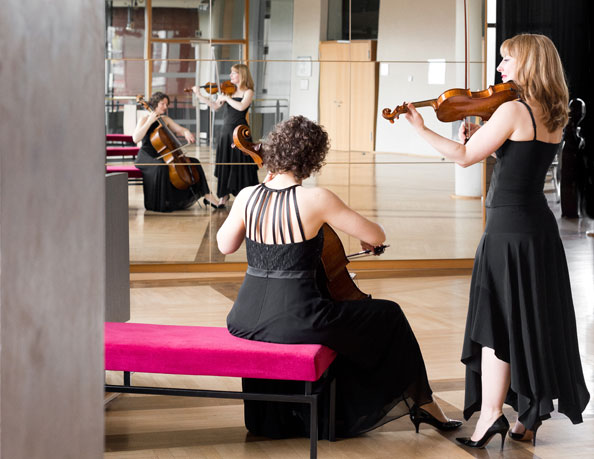 Discovering new and rarely played compositions for violin and violoncello is an important intent of the two musicians. In 2021 they devoted themselves particularly to Jewish composers and perform Duos by Erwin Schulhoff, Zikmund Schul, Ruth Schonthal and Kurt Weill as part of the jubilee "1700 Years of Jewish Life in Germany".
Videos
Watch the videos of Duo con moto here.
Photos
View all pictures of Duo con moto in the photo gallery.
Concert programs
In their programs Anna Göbel and Anna Catharina Nimczik combine popular duo literature with less known works by composers like Schul or Wolf-Ferrari. They like to moderate their concerts to break down the barriers to contemporary music and excite their audience equally for pieces by Bach, Beethoven, Widmann and Dinescu.
Begegnungen
Johann Sebastian Bach
Two-part Inventions
Zikmund Schul
Hasidic dances op. 15
Rebecca Clarke
Lullaby & Grotesque
Violeta Dinescu
Clair obscur & Lytaniae II
Johan Halvorsen
Passacaglia in g minor after a theme by Georg Friedrich Händel

- Intermission –

Wolfgang Amadeus Mozart
Duo in G Major, KV 423
Bohuslav Martinu
Duo No. 1, H.157
Weltenbilder
Ludwig van Beethoven
Duo in C Major, WoO 27 No. 1
Ermanno Wolf-Ferrari
Introduzione e Balletto op. 35
Reinhold Glière
Huit Morceaux op. 39
Johan Halvorsen
Passacaglia in g minor after a theme by Georg Friedrich Händel

- Intermission –

Ludwig van Beethoven
Duo in F Major, WoO 27 No. 2
Erwin Schulhoff
Duo (1925)
Kontraste
Johann Sebastian Bach
Two-part Inventions
Violeta Dinescu
Clair obscur & Lytaniae II
Johann Sebastian Bach
Canon per Augmentationem from "The Art of the Fugue"
Bohuslav Martinu
Duo No. 1, H.157

- Intermission –

Joseph Haydn
Duo in D Major, Hob VI:D1
Maurice Ravel
Sonata "À la mémoire de Claude Debussy"